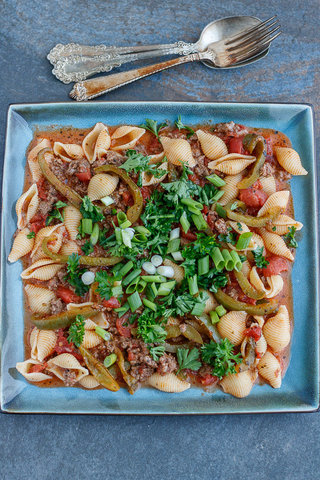 (Photo by Helene Peloquin)
I was very proud of be part of a
RETHINK BEEF
: GLOBAL
RECIPE SWAP
in March 2017 to give Canadians some great recipe ideas for ground beef. Together we were 10 bloggers and recipe developers showing off a range of cuisines and original recipes from coast to coast. I was paired with a great partner, who, as luck would have it, lives in my hometown of Ottawa,
ON
(not to mention has spent some time in Saskatchewan with her military husband. Small world!).
Helene Peloquin has a cooking blog called La Cuisine d'Helene. It's filled with all sorts of recipes and great food photography. She made my recipe and I made hers. Helene's 'Cheesy Beef Coquillettes with Herbs' was a fun take on a classic meat sauce – except jacked up loads of cheese and served with cute shell pasta called coquillettes – easy to find in most grocery stores. For Helene, the dish brought back childhood memories of her family eating and laughing around the dining table on a dark, chilly winter night.
My family devoured it! I loved the stringy cheese that followed every spoonful. You can get her recipe
here
on her blog. And here it is below. It was fun to make, easy and perfect for any weeknight meal!
To check out my recipe, click
here
.
CHEESY BEEF COQUILLETTES WITH HERBS
PREPARATION
: 10
MINUTES
COOK TIME
: 20
MINUTES
READY IN
: 30
MINUTES
SERVES
: 4-6
FREEZES
Ingredients:
454g lean ground beef
1 can 796ml diced tomatoes with herbs & spices
1 green pepper, sliced
5 ml each dried basil, oregano, rosemary
5 ml dehydrated onion
5 ml garlic salt
2.5 ml salt
625 ml coquillettes pasta
375 ml tex-mex shredded cheese
125 ml fresh parsley, chopped
4 green onions, diced
Directions:
In a large pot boil the water for the pasta.
Meanwhile in a large non-stick skillet over high heat, brown the lean ground beef for 5 minutes. Add the spices and cook for 30 seconds.
Add the diced tomatoes and sliced green pepper, bring to a boil, cover and cook on medium-low for 20 minutes, stirring occasionally.
When the water is boiling cook pasta according to package instructions. Drain pasta ans set aside.
When the meat mixture is ready add the cheese and pasta. Mix well.
Serve immediately and decorate each plate with fresh parsley and green onions.